Royal Cabinet Company:
Kitchens and Custom Cabinets for Every Room
Click on each image to see additional kitchens in that category
Royal Cabinet Company
Royal Cabinet Company is located in the Veterans Industrial Park, just off Route 206 in Hillsborough, New Jersey. With 45,000 square feet at our disposal, we have plenty of space for our state-of-the-art manufacturing and finishing facility, a beautiful showroom, as well as conference and office areas. Royal Cabinet is proud to be the largest residential custom kitchen cabinet manufacturing facility in the state of New Jersey.

Our facility includes three state of the art finishing booths - perfect for our expert finishers to apply, hand-finish, and oven bake all the great finishes you have come to expect from Royal Cabinet's kitchen cabinets.

Our showroom and factory are conveniently located together. We invite you to visit us and speak with a member of our team about your specific project. With an appointment, you are guaranteed a one-on-one conversation, and we will be happy to arrange a factory tour for you, as well.
Our address is:
Royal Cabinet Company
Veterans Industrial Park
152 Route 206, Building 14D
Hillsborough, NJ 08844
Royal Cabinet Company, a New Jersey based custom cabinet manufacturer, designs and manufactures some of America's finest cabinetry. We serve the US east of the Mississippi through our dealer network and the local counties of Somerset and Hunterdon with our own local designers. In a world where quality still counts, consider the inherent value of Royal Cabinet for your new kitchen, bar, library, media, or home office project.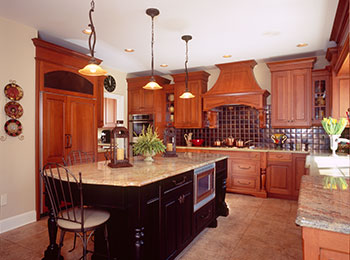 Royal Cabinet is dedicated to hand crafting custom kitchen cabinets that ensure your new kitchen will be distinctive, unique and highly functional.
Distinctive: Your kitchen cabinetry will be the envy of your neighbors; your guests will "just love your new kitchen!"
Unique: Your kitchen cabinets will be designed and finished with options unlike any you've ever seen before, anywhere!
Highly Functional: Your space will be your space – designed for the way you like to work and entertain.
Visit Our Portfolio of Kitchens, Baths and Other Rooms
Beautiful custom kitchens, baths, living rooms or workspaces can take on luxurious qualities at affordable prices - Royal Cabinet puts beauty and luxury in your kitchen within reach.
Read What Our Customers Are Saying
Royal Cabinet delivers on its promise - there is no need to settle for second best in your kitchen design and remodel.
Put the Finishing Touches on your Kitchen or Bath
Concrete countertops have become extremely popular in homes, restaurants, and stores. With your imagination almost any countertop shape can be formed. Once out of the mold, your top becomes a canvas to display an unlimited palette of colors. Visit Stonehenge Concrete Countertops' website for additional information.
Tour Our Facility
Our state of the art manufacturing facility combines the latest technology with the human touch of the finest artisans and craftsmen to produce a superior kitchen cabinet designed to enhance the beauty of your kitchen and your entire home.
Click on the play button below for a one minute tour.