Fast Forward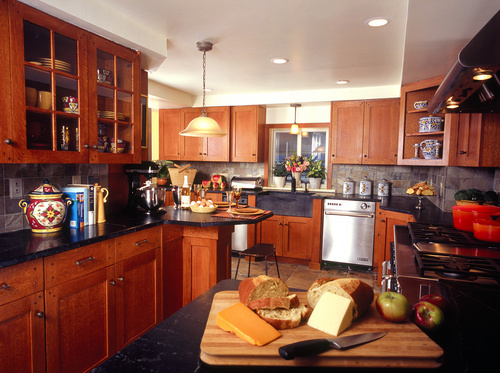 Brooke and Mark Liebowitz are big fans of reality TV renovation shows. So when their real estate agent recommended them for the pilot episode of The Learning Channel's series "Moving Up," the couple jumped at the chance to be on TV.
The premise of the show is to see how a house changes once the previous owner moves out and a new one moves in. The new residents get to go wild gutting, renovating, and redecorating to suit their personal taste. Brooke and Mark spared no punches regarding their new Victorian home in Flemington, NJ, which they described as "country kitsch meets Goodwill." "The kitchen had cream colored laminate cabinets with shocking turquoise countertops," says Brooke.
They looked no further than their own backyard for their new kitchen and brought in designer Ian Cairl of Royal Cabinet Company in Hillsborough, NJ. Cairl widened the small doorway that separated the old kitchen from the family room. He then determined that the new kitchen could do with a period look more in keeping with the Victorian house, so Royal Cabinet custom manufactured Shaker/Mission style cabinets in a warm, reddish brown honey finish. The black countertops are soapstone and feature an integrated farmhouse sink. Slate tiles are used for both flooring and backsplash. "The slate has a marvelous range of color tones that complements the countertops and the warmer earth tones of the cabinets," says Caril.
Liebowitz says the kitchen is now truly the hub of the home, a place where she, Mark, and their two young children can work on the computer, cook, bake, watch TV, and listen to music, all at the same time. "The icing on the cake is that it's also aesthetically beautiful," she adds. "The warmth of the cabinets, the earthiness of the soapstone, the natural feel of the slate floor and backsplash, and the hand forged hardware all work together to create exactly the look I wanted."
Both homeowners and designer say the renovation was more challenging than most because of the short lead time. "It had to be renovated in five weeks rather than the usual 12-week period we usually have," says McDonald.
Despite the frenzy, both the Liebowitzes and Royal Cabinet say they'd jump at the chance to do another home renovation show. In fact, Brooke and Mark are ready to move and renovate another old house, and hope to work with Royal Cabinet again.